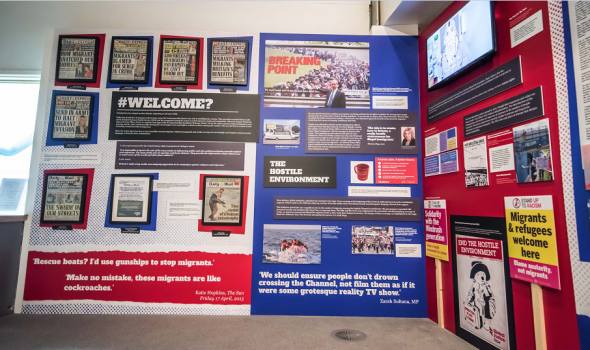 A five-woman "community programme team" has shown how a museum can highlight migration by thinking out of the box – literally.
"Wars, Trade, Empire and Slavery" got a brief mention in a small box in a permanent exhibit, a large mind map on the wall of the People's History Museum in Manchester about how British people won the right to vote.
There was no explanation and no link to other exhibits. The programme community team – Jo Yee Cheung, Monika Titãne, Agnes Fough, Muliana Adjamian, Einas Khaleel, who have lived in eight countries and speak 12 languages – decided this was not good enough.
They created a timeline that presents a fuller view of the issues previously confined to a box. Visitors are invited to add their personal histories or comments to keep the timeline fresh and alive.
The community programme team also gave an additional migration twist to another museum display: of banners.
Members of the team commissioned Seleena Laverne Daye ("artist, zinester, workshop facilitator, tap dancer and class warrior") to make a banner declaring The Journey We Made Across Land And Sea, To Build A Country Not Made For Me. It aims to give a voice to migrants, visually representing those working in care, hospitality, agriculture and textiles.
"It speaks about the hostility migrants face when coming to the UK, the narrative told in mainstream media and the poor treatment, not just as workers, but as people," Saleena explains.
The two initiatives are among several the museum calls "interventions" – known collectively as Migration: a human story – that has been developed over two years to take a fresh look at existing exhibits through the lens of migration and brought new stories into the museum.
Jenny Mabbott, head of collections & engagement at the museum, says, "We describe what has been created as interventions because of the way they interact with the existing content. That they are delivered so creatively and excitingly for visitors is thanks to the ideas and approach of the Community Programme Team."
Other interventions include a Passport Trail that challenges visitors to step into the shoes of a refugee, asylum seeker or economic migrant, with your fate determined by the spin of a wheel, and animations illustrating the accounts of three migrants. (In one of the testimonies an Ethiopian girl recalls coming to the UK after 15 years in a Kenya refugee camp and finally feeling safe: "This was the first time I felt peace and security. It never felt safe in the camp.")
The community programme team's work "challenges you to rethink what you know about migration. Visitors will find lots to absorb and take away with them." But team members themselves have benefitted too.
Monika Titãne says: "It is a step in levelling the playing field for those of us who have been undermined and who deserve appreciation and recognition. Individually, this has undoubtedly made each of us braver and more hopeful for the future."
Ensuring migrants tell their own stories has been key in developing another display, #WELCOME, which looks at the impact of negative media coverage and changing immigration controls, says exhibitions officer Mark Wilson.
It also highlights campaigns to end the government's 'hostile environment' and its policies.
Wilson says the exhibition was developed after a consultation that was open to the public: "The role of the media kept coming up and how that had influenced perceptions of migrants and how that was shaping political debate."
His team worked with migrants. "One of the things we thought was really important was to give space to a number of personal stories and to try and present them as unedited as we could," says Mark.
Migrant Voice asked two migrants to take a look. Both gave it the thumbs-up.
Mariam Yusuf, who campaigns for migrant rights, welcomed it as capturing a different audience.
"We speak to the papers, on the TV and to the public, but to be in an art gallery, to me is something good. It is going to be there for a long time and people will pass by and read it."
Bukola Toba comments: "I felt empowered. At least there is an exhibition where migrant voices are being heard.
"We want our voices to be heard, our struggle and what we are facing in the UK. We want to tell our stories."
Her final verdict: "There should be more exhibitions like this ... we would feel more part of the community."
+ 23 Oct, 10 Dec, tour of Migration: a human story with the community programme team, 1.30pm
* People's History Museum, Left Bank,
Spinningfields, Manchester M3 3ER is open Wednesday-Sunday, 10am-4pm, free, with a suggested donation of £5. Info: 0161 838 9190/ https://phm.org.uk/
* Migration: a human story is on display until 24 April 2022; #WELCOME and Banners until 9 January
Image Credit: Courtesy of People's History Museum