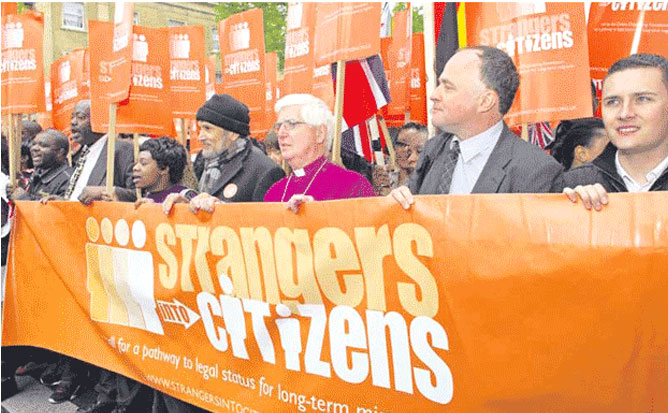 The 'Strangers Into Citizens' rally in Trafalgar Square
What is to be done about Britain's "shadow people" – migrants who live in the furtive half-light of undocumented or uncertain status? There are more than 700,000 in the UK, about two-thirds of whom have been in the UK for five years or more. They have put down roots in British society. Their children attend British schools. Many of them work and pay taxes.
Most importantly of all, most will never go back to their countries – and the state will not succeed in removing them. As everyone admits, it would be impossible.
Most of Britain's irregular population are people who entered the UK quite legally, through the asylum system or on a visa, but whose status later became uncertain when they were refused asylum or the immigration rules changed. The rules on paper dictate that those without a clear legal right to be in the UK should simply "go back". But most won't, because they have put down roots. With roots come rights – just as the state's right forcibly to remove someone erodes after time.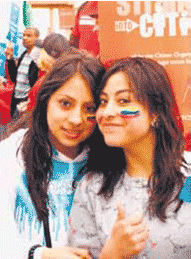 Joining together to support 'Strangers Into Citizens' | picture Jean Jameson
Since it was launched in 2006, Strangers into Citizens – a campaign by CitizensUK and London Citizens for a conditional regularisation programme – has put the spotlight on the irregular population and asked for a pragmatic, realistic alternative to a status quo which currently benefits no-one. In two massive rallies in Trafalgar Square (on the May Bank Holiday in 2007 and 2009) Strangers into Citizens mobilised civil society organisations, faith, political and union leaders. The case was made for a one-off, conditional pathway into citizenship for approximately 450,000 people who can demonstrate they have been in the country for more than five years and speak good English.
Among the most outspoken advocates of Strangers into Citizens is the mayor of London, Boris Johnson, who was persuaded of the case for regularisation by London Citizens shortly before his election. Last year he commissioned research by the London School of Economics which dismissed fears that the move would fuel further large-scale illegal immigration. Far from being a financial burden, it concluded, "an amnesty could be worth up to £3bn a year to the country's economy".
Addressing the London Citizens assembly in November last year, Boris Johnson said: "We have led the way in proposing an earned amnesty for people who have been here for a long time, in this city, because I believe if they have been here for a long time and if they can show they are good citizens and loyal to this country and its institutions, we should enable them to express their loyalty and their love; and number two, because it makes simple economic sense for them to enter the system and pay their taxes like everybody else. That is why I am working with my colleagues and with my political opponents. We are championing the earned amnesty, and I believe it deserves wider national consideration."
As we enter an election sure to be dominated by the parties' fear of "looking soft" on immigration, regularisation will, for a time, drop off the agenda. But the arguments will not go away. One indirect result of the campaign is that to have encouraged government to move on the "legacy cases" issue. In the past two years, tens of thousands of refused asylum applicants have been given leave to remain "on the basis of your long association with the UK" – precisely the argument of Strangers into Citizens. Meanwhile, the campaign continues, and hopes remain that an incoming government will do the right thing.
Austen Ivereigh, co-ordinator of Strangers into Citizens